Innovating the Network for Data-Intensive Science
Every year, the INDIS workshop brings together network engineers and researchers to share challenges and potential solutions in the information systems and networking communities. With its inaugural appearance at SC14 in New Orleans, INDIS has become the academic forum for experts, researchers, and engineers in research and education (R&E) networking. Learn more about how SCinet pushes the boundaries of networking technologies and innovations through the INDIS workshop, NRE and experimental network demos, and collaborative opportunities.

The 8th Annual International Workshop on Innovating the Network for Data-Intensive Science (INDIS 2021) will be held in cooperation with IEEE TCHPC and in conjunction with SC21: IEEE/ACM International Conference for High Performance Computing, Networking, Storage and Analysis on Monday, November 15, 2021.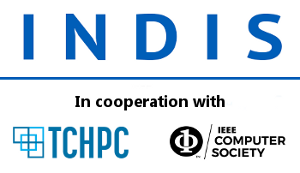 More information about the INDIS workshop series: