Many fields of science continue to experience a large influx of data. Managing and transporting data, architecting systems, as well as building tools to cope with the delivery of this data has become increasingly important. Furthermore, the ecosystem of information and communication frameworks supporting data management and transport is becoming more and more complex. Networks for data-intensive sciences have more extreme requirements than general-purpose networks. These requirements not only closely impact the design of processor interconnects in supercomputers and cluster computers, but they also impact campus networks, regional networks and national backbone networks. In addition, wide area networks are now an integral and essential part of this data-driven supercomputing ecosystem connecting information sources, data storage, processing, simulation, visualization, real-time user interaction and user communities together.

The 7th Annual International Workshop on Innovating the Network for Data-Intensive Science (INDIS 2020) will be held as a virtual event in conjunction with the fully virtual SC20: IEEE/ACM International Conference for High Performance Computing, Networking, Storage and Analysis and in cooperation with the IEEE Computer Society and TCHPC on Thursday, November 12, 2020.
The INDIS workshop brings together network engineers and researchers to share challenges and potential solutions in the information systems and networking communities. With its inaugural appearance at SC14 in New Orleans, INDIS has become an academic forum for experts, researchers, and engineers in research and education (R&E) networking.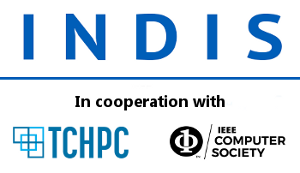 More information about the INDIS 2020 workshop: